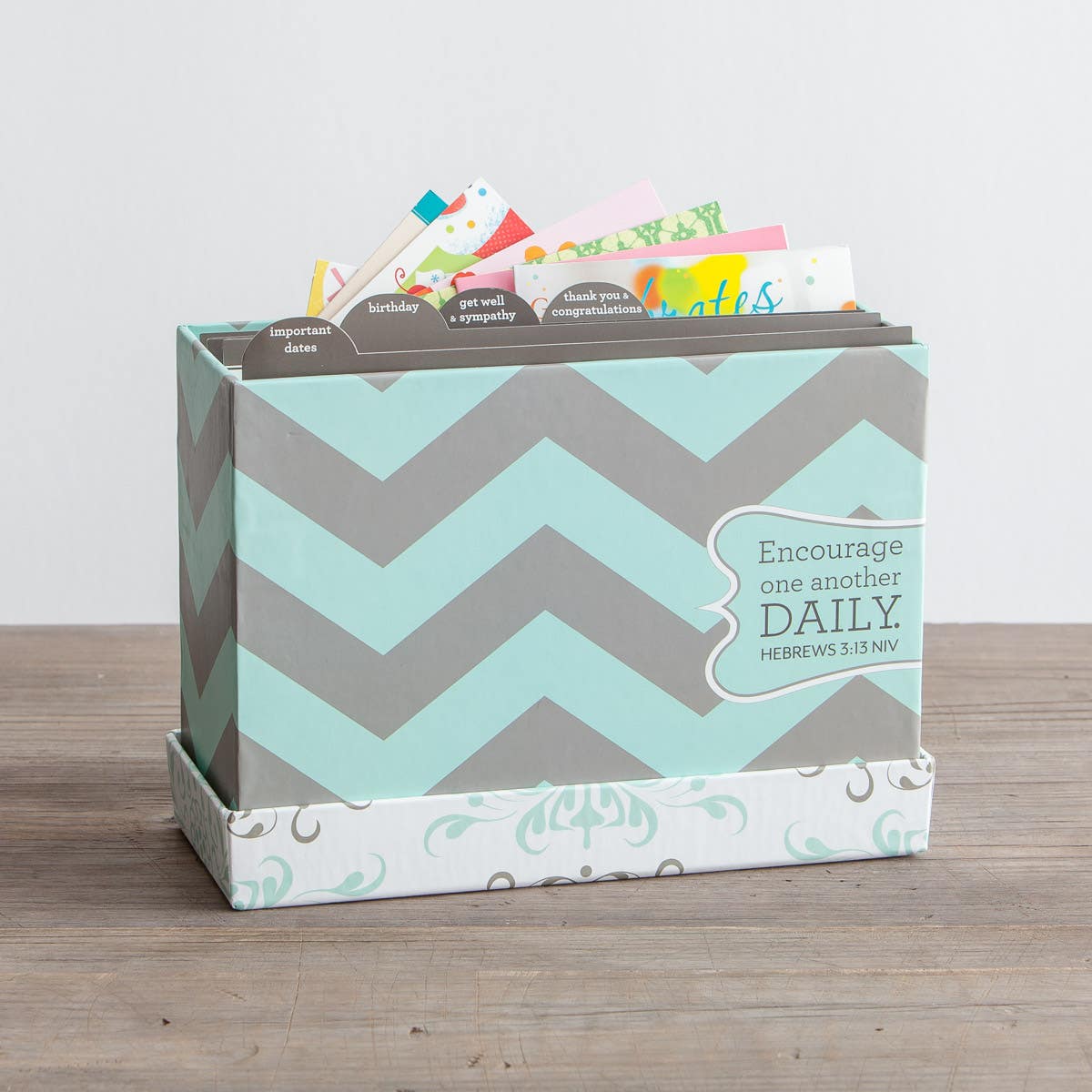 Encourage One Another – Chevron Card Organizer with 24 All Occasion Cards
from: DaySpring Cards Inc
Daily Bible Verses for Encouragement
We all go through times when we in a special way need some bible verses for encouragement.
So many things are coming against us today, so we really need the truth form the word of God to help us and encourage us!
During periods of time I take one or to verses that has touched my heart and make them my own in a special way.
I think about them, pray them and focus on them the whole day. My goal is to do what the bible says; I want to meditate on the word day and night!




Only be strong and very courageous, being careful to do according to all the law that Moses my servant commanded you.

Do not turn from it to the right hand or to the left, that you may have good success wherever you go.This Book of the Law shall not depart from your mouth, but you shall meditate on it day and night, so that you may be careful to do according to all that is written in

it.

For then you will make your way prosperous, and then you will have good success. (Jos 1:7-8 ESV)
The bible verses I choose to meditate on are verses that fit my situation. If I fear I might use bible verses that speak about not to fear but trust God, if I need healing I focus on bible verses on healing etc.
I have noticed that if I do this as a daily bible inspiration, those bible verses will keep me strong. Through then I can move forward in my life and through them I can go through the storms in my life!
Here are some links to some encouraging bible verses:
* Inspiring bible verses about our FREEDOM in Jesus
* Uplifting Verses about PEACE
God is so great, He knows what we need! He knows how to speak to us through the word and the Holy Spirit. He gives us different kinds of inspirational thoughts because the Holy Sprit always know when and what to speak to our hearts!
The Holy Spirit is our helper! He knows our situation and what we need to hear. If we listen when He talk to us (he can speak in many ways, but the main way is through Gods word) and gives us some encouraging bible verses, we better listen and act on it! It is like dynamite into our life!
Too many times we Christians hear it, but we don't act on it. We don't put our trust in it, and that's why we some times se no result. The word of God is not magic, God works through people like you and me, and we need to cooperate with Him! Believe His word; make it your daily bible inspiration!
Some great bible verses how not to fear but trust God:
"So I tell you, don't worry about the things you need to live–what you will eat, drink, or wear. Life is more important than food, and the body is more important than what you put on it.
Look at the birds. They don't plant, harvest, or save food in barns, but your heavenly Father feeds them. Don't you know you are worth much more than they are? You cannot add any time to your life by worrying about it. "
And why do you worry about clothes? Look at the wildflowers in the field. See how they grow. They don't work or make clothes for themselves. But I tell you that even Solomon, the great and rich king, was not dressed as beautifully as one of these flowers.
If God makes what grows in the field so beautiful, what do you think he will do for you? It's just grass–one day it's alive, and the next day someone throws it into a fire. But God cares enough to make it beautiful. Surely he will do much more for you. Your faith is so small!
"Don't worry and say, 'What will we eat?' or 'What will we drink?' or 'What will we wear?' That's what those people who don't know God are always thinking about. Don't worry, because your Father in heaven knows that you need all these things. What you should want most is God's kingdom and doing what he wants you to do. Then he will give you all these other things you need. So don't worry about tomorrow.
Each day has enough trouble of its own. Tomorrow will have its own worries.
(Mat 6:25-34 ERV)
---
---
Rejoice in the Lord alway: and again I say, Rejoice.
Let your moderation be known unto all men. The Lord is at hand.
Be careful for nothing; but in every thing by prayer and supplication with thanksgiving let your requests be made known unto God.
And the peace of God, which passeth all understanding, shall keep your hearts and minds through Christ Jesus.
Philippians 4:4-7 (KJV)
Get encouraging bible verses for healing and uplifting bible verses on love.
You can learn more about how to meditate on the word day and night here, and get more bible verses of encouragement here.
Read more about the life in Jesus: