After Jesus was beaten by the Roman soldiers, they forced Him to carry His own cross. Since Jesus was in such a bad condition, they found a man, Simon of Cyrene to bear it for Him.
No one of us can understand what Jesus had to go through in order to save us. Jesus was suffering in all ways for you and me to be saved. The bible verses describe how Jesus suffered from cruelty hard to imagine. He had already been beaten 39 times, they had made a crown of thorn that were forced down on His head and Jesus was in severe pain and bleeding all over his body.
When He through indescribable pain finally came to Calvary, they ripped His clothes off and took nails and nailed the body to the tree; most probably both hands and feet. The most insufferable pain must have gone through the body of Jesus.
When Jesus asked for something do drink, they did not give Him water, but vinegar mixed with gall, which was just a sign of pure evil.
Read Easter bible verses from the Old Testament
What happened on Calvary is also exactly described in the Old Testament; for example, the fact that they did cast lot about His clothes.
---
I may tell all my bones: they look and stare upon me. They part my garments among them and cast lots upon my vesture.
(Ps. 22:17-18 KJV)
---
Psalm 22 is a psalm filled with bible verses describing what happen to Jesus in detail, even though it was written thousands of years before Jesus was even born. This prophecy amongst other prophecies shows us that nothing about the life of Jesus was unknown to God. He knew exactly what Jesus had to go through and had orchestrated it all. Jesus did not just stumble into it – He gave His life knowing exactly what was going to happen to Him, but did it for you and me. That is awesome and worth celebrating every day!
Also, the following bible verses are describing the horrible pain and suffering Jesus went through:
---
They gaped upon me with their mouths, as a ravening and a roaring lion. I am poured out like water, and all my bones are out of joint: my heart is like wax; it is melted in the midst of my bowels.My strength is dried up like a potsherd; and my tongue cleaveth to my jaws; and thou hast brought me into the dust of death. For dogs have compassed me: the assembly of the wicked have inclosed me: they pierced my hands and my feet. I may tell all my bones: they look and stare upon me.
(Psa 22:13-17 KJV)
---
Jesus suffered so much that he did not even look human. The bible verses tell us that Jesus took all our sins but also all our sicknesses. That means that Jesus bore our sicknesses on Himself, and there are theologians believing that Jesus actually suffered from all kind of sicknesses hanging on the cross. Isaiah is writing, also many years before:
---
……. he hath no form nor comeliness; and when we shall see him, there is no beauty that we should desire him.
(Isa 53:2 bible verse from KJV)
---
Easter scriptures – Jesus were thinking of others
Even though Jesus was in such pain and close to death, He was thinking of other people, not Himself. You could think that even if Jesus always showed His outgiving love to people, He in this moment when hanging on the cross, minutes before death, He now would think about Himself. But He did not. He was thinking of other people, standing around, watching.
He was thinking of His mother Mary, who heart broken had to watch this scenario. Jesus told John to take care of her, saying: John: Behold your mother. He was thinking about the criminals hanging on both sides. One of them asked: Think of me when you come into your Kingdom, and Jesus said: Today you will be with me in paradise! The heart of Jesus was opened towards people even in this horrible situation. He still loved them!
Maybe the uttermost proof of that love was when He asked God to forgive those who put Him to death! He said:
Then said Jesus, Father, forgive them; for they know not what they do. And they parted his raiment, and cast lots.
(Luk 23:34 bible verses from KJV)
---
Remind Yourself Every Day Of What Jesus Has Done For You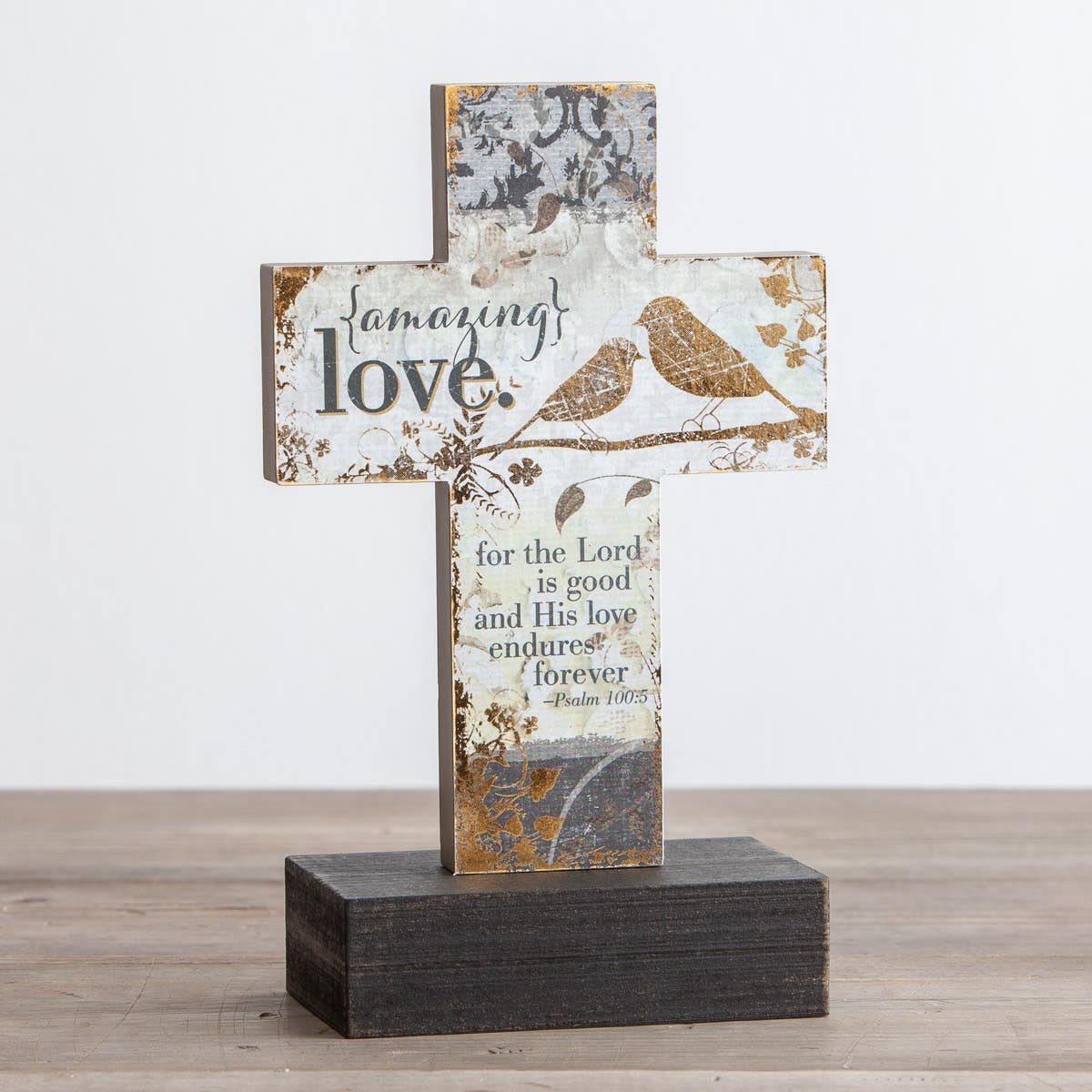 Amazing Love – Wooden Cross – $22.00
from: DaySpring Cards Inc
---
The bible verses on Easter shows how Jesus opened a way to heaven
People abounded Jesus and He was suffering both physically and mentally. And He did it because He needed to be a man like you and me in order to be able to help us and save us. We could not save ourselves. We would die; we would suffer eternally if it was not for Jesus and what He did on Calvary.
Bible verses are describing how Jesus opened a way for us – He took our sins on His shoulder – He did not suffer for His on sins since He never sinned, but it was our transgression He took on himself. He had to be like us. Jesus had to be a human being to be able to rescue us. He had to die in our place.
Jesus had to become human
These children are people with physical bodies. So Jesus himself became like them and had the same experiences they have. Jesus did this so that, by dying, he could destroy the one who has the power of death–the devil. Jesus became like these people and died so that he could free them.
They were like slaves all their lives because of their fear of death. Clearly, it is not angels that Jesus helps. He helps the people who are from Abraham. For this reason, Jesus had to be made like us, his brothers and sisters, in every way.
---
He became like people so that he could be their merciful and faithful high priest in service to God. Then he could bring forgiveness for the people's sins. And now he can help those who are tempted. He is able to help because he himself suffered and was tempted.
(Heb 2:14-18 bible verses from ERV)
---
Jesus became like you and me, He became a man so He could destroy the one that had the power of death, the devil. There was no way that we could have beaten death, we were all under the curse and doomed to eternal death.
Our sins were in the way for us to live with God. The devil tempted Adam and Eve and they fell into sin and because of that, all of us are poised by sin and death.
---
For the wages of sin is death, but the gift of God is eternal life through Jesus Christ our Lord.
(Rom 6:23 KJV)
---
The result of sin is death. That's why Jesus had to die in our place. He did not sin Himself but He took our sins upon Himself. So when Jesus hung there on the cross it was you and me he was thinking of. It was you and me He came to save. The Bible says that it is the love for us that made Him go through all those things. Jesus could not bear watching us all die and forever be separated from God. He loves us and was willing to do even die for us.
---

I Am the Light of the World – Decorative Cross – $15.99
from: DaySpring Cards Inc
---
The Easter verses showing how Jesus felt forsaken by God
We were the ones who should have cried out because we were separated from God. Instead, Jesus cried out on Calvary: Eli, Eli, lama sabachthani? :
---
…….My God, my God, why hast thou forsaken me? why art thou so far from helping me, and from the words of my roaring? O my God, I cry in the daytime, but thou hearest not; and in the night season, and am not silent. But thou art holy, O thou that inhabitest the praises of Israel. Our fathers trusted in thee: they trusted, and thou didst deliver them. They cried unto thee, and were delivered: they trusted in thee, and were not confounded.
(Psa 22:1-5 bible verses from KJV)
---
For a moment, God had to abound Jesus only to very soon rise Him up from death again. But Jesus had to go through it, and because of that, you and I have way out – we are rescued. The only thing we need to do is to receive that gift – receive Jesus into our hearts and believe in His death and resurrection.
---
For God so loved the world, that he gave his only begotten Son, that whosoever believeth in him should not perish, but have everlasting life. For God sent not his Son into the world to condemn the world; but that the world through him might be saved. He that believeth on him is not condemned: but he that believeth not is condemned already, because he hath not believed in the name of the only begotten Son of God.
(Joh 3:16-18 KJV)
---
The manifestation of Gods power
When they crucified Jesus they hung a sign that said: THIS IS JESUS THE KING OF THE JEWS, This was a sign meant as an accusation and as a mockery. But in fact, it was true! Jesus is the king of Jews, but not only the Jews but He is King of Kings and Lord of Lords. Jesus is now the ruler and one day it will be shown to all.
They mocked him, but He never answered back. They told Him to come down from the cross if He were the King, and told Him to heal Himself if He was the son of God, but He never answered those things. Jesus knew what He had to do and He stood through mockery and pain and suffering.
When Jesus finally gave His breath up, things started to manifest all over. In the temple, the veil was torn into two pieces. It was torn from the top to the bottom, showing the awesome truth that now the way into the Holy of holiest was open – free – through Jesus we now can come before God – our sins are forgiven, and if we believe in that – we become sons and daughters to the Most High God and can have fellowship with Him!
Now Jesus has won the victory over death – He now has the key to the death and to hell, and also that was manifested when Jesus died! As soon Jesus gave His breath up – there was an earthquake shaking the whole ground and the grave was opened and dead saints were raised from death, walking around in town and were seen by many! Death is now conquered!
When people that watch Jesus die also saw all those manifestations (there were even more of them: It became dark, soldiers fell to the ground etc.) they feared greatly, saying; truly this was the Son of God. People that were wondering if Jesus was really the Son of God became believers when they saw all those things happening.
More About Easter in the bible here
Read Jesus last words on cross from these Bible verses
Some of the last words Jesus said on Calvary were:
---
……It is finished: and he bowed his head, and gave up the ghost.
(Joh 19:30 KJV)
---
Jesus had now finished all that He came to do. For thirty-three years, He had been here on earth, walking like a man even though He also was the son of God. He had a mission and He completed it. Through hardships and trials, He did the will of God – He opened a way back to our Father again.He came to save us.
………………………………………………………
Read the Easter bible verses about crucifixion here:
Gospel of Matthew
Gospel of Mark
Gospel of LukeGospel of Mark
Gospel of John
………………………………………………………..
No of us deserve such a grace – it is all because of Gods love for us. The question is: What are you doing with Jesus? Have you received this gift into your life? This is your life's most important decision! Do not reject what Jesus has done for you – He is longing for you to come to Him – He did it all for you!
Here is how to be saved:
http://bibleversesforme.org/how-to-be-saved-and-become-a-child-of-god/
Read more Bible Verses about Easter here:
Easter Bible Verses That Tells Us How Jesus Died On The Cross