The Bible is all about love, and there are so many Bible verses about God's love provided for us! God is a loving God, and He is our great Father that really loves His children!
When Jesus died and took our sins upon Himself; He did it because He loves us!  The Gospel is a message that is all about Love, no doubt!
---
He that loveth not knoweth not God; for God is love. 1 John 4:8 (KJV)

But God, who is rich in mercy, for his great love wherewith he loved us, Ephesians 2:4 (KJV)
---
God Showed His Love Toward Us
But still, there are so many people that misunderstand the love of God. There is a lot so called Christian teachings out there; that tells you about an angry and judgemental God. They preach that God is angry at you because you are not good enough, and tells you that God can't bless you because of that!
That is not true! Let me just say that, quite frankly! God showed in a most obvious way when He sent His only Son to take our sins, that He loves us. And we can receive it because of His grace, and nothing else! No one of us deserves to be loved By God, but we are! Isn't that a great message! Listen to the following love bible verses:
In this was manifested the love of God toward us, because that God sent his only begotten Son into the world, that we might live through him. 1 John 4:9 (KJV)
And we have known and believed the love that God hath to us. God is love; and he that dwelleth in love dwelleth in God, and God in him. 1 John 4:16 (KJV)
For God so loved the word, that he gave his only begotten Son, that whosoever believeth in him should not perish, but have everlasting life.  John 3:16 (KJV)
God Loves Everyone – Even Sinners
God even loves us if we sin! Wow! Does that mean that we shall continue to sin? Of course not! But when we are failing, God still loves us. He is not angry with us! The sin needed a punishment, and God put the punishment on Jesus; the only one who could save us!
It is so wonderful and almost unbelievable the Love that God has shown to us. And still, religion teaches about His wrath and condemnation! You just have to read a few of those many bible verses on love. For example, The Bible says:
But God commendeth his love toward us, in that, while we were yet sinners, Christ died for us! Rom.5:8.
God did not wait until you became perfect in order to love you. He loved you even before you became born again and He loves you even if you are failing! And He showed it through what Jesus did for us!
Gods love is absolutely unconditional. We can not do anything that will make God loves us more, and no mistakes or misbehaviour on our behalf can make God love us less! Isn't that the greatest truth of all!
Take those love quotes from the bible and think about them for a while. Chew on it like the cow is chewing on its grass. You know… chewing and chewing. Because we all need to get into our heart that God loves us! Jesus loves you. Jesus loves me…
Who shall separate us from the love of Christ? shall tribulation, or distress, or persecution, or famine, or nakedness, or peril, or sword?  Romans 8:35 (KJV)
Nor height, nor depth, nor any other creature, shall be able to separate us from the love of God, which is in Christ Jesus our Lord. Romans 8:39 (KJV)
This important truth can change our whole life! The most foundational thing in our lives is to know that we are loved! So many other things in life, will work out perfectly well, if we just trust God in this area. If we know we are loved, we will be bold. We will have no fear. We will have joy, confidence and happiness!
That Christ may dwell in your hearts by faith; that ye, being rooted and grounded in love, Ephesians 3:17 (KJV)
And to know the love of Christ, which passeth knowledge, that ye might be filled with all the fulness of God.  Ephesians 3:19 (KJV)
The only question that is left is: Have you received His love? Have you made those love Bible verses your own? Have you made Him your personal Savior?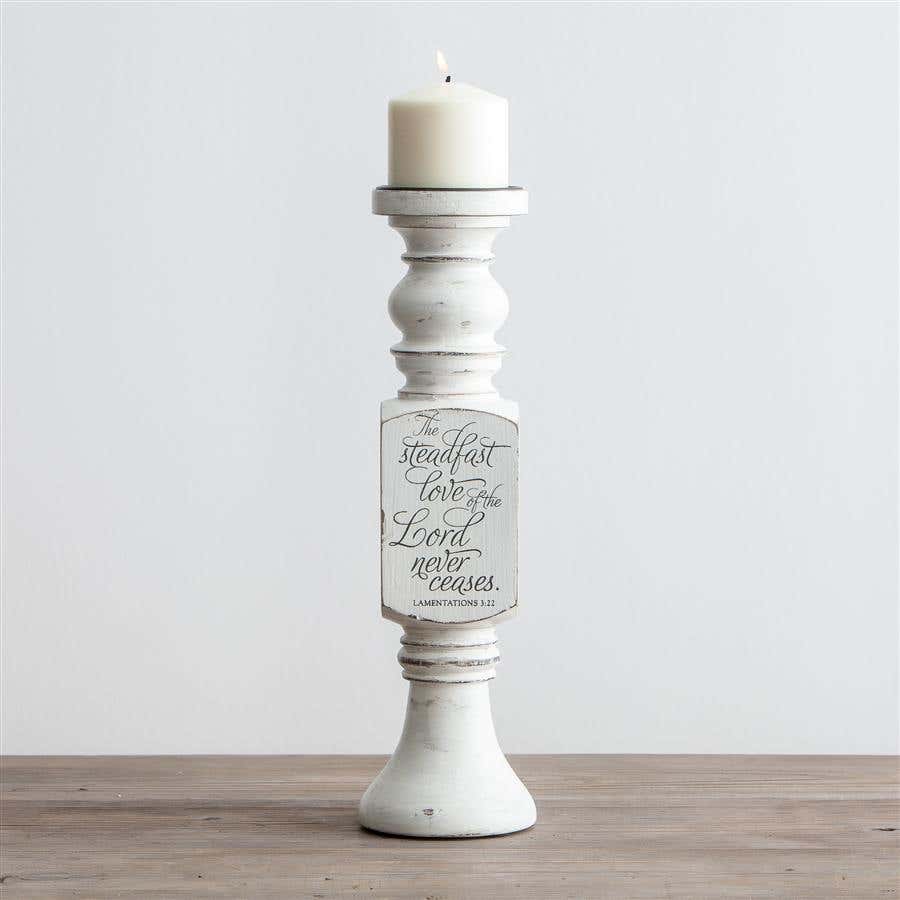 Steadfast Love – Wooden Candlestick Holder
from: DaySpring Cards Inc