Jesus is our great healer – there are a lot of healings scriptures that shows how Jesus healed people, everywhere he went.You can read about his healing prayer all through the gospels. He told people that he was doing what God himself wanted him to do.
God is a loving and caring God, and when he sent Jesus to this earth o carry our sins and our sicknesses, he did it because he loves us so much! Jesus, who is the true son of God, gave his own life so we could live. And bore our sicknesses so we can be healed! It's a gift for you and me to receive!
Jesus was sent to heal
When Jesus started His ministry on earth He also declared His mission: "The Spirit of the Lord is upon me, because he hath anointed me to preach the gospel to the poor; he hath sent me to heal the brokenhearted, to preach deliverance to the captives, and recovering of sight to the blind, to set at liberty them that are bruised" Luk 4
Jesus came to heal and to restore all those who hurt. There are a lot of healing scriptures that shows us this truth! Healing prayer was a great part of Jesus ministry.



Unfortunately, there is a lot of wrong teachings in the Christian church today, and many people have been misleading by it. But let's just read all of the bible verses for healing that there are, and see for ourselves what the bible actually teaches.
You don't need to go far in the New Testament before you can read story after story about how Jesus touches people's lives with his healing power.
The healing scriptures really show the heart of God. He cares for us and wants to change our situation!
Healing scriptures about what Jesus has done
Surely he hath borne our grief and carried our sorrows: yet we did esteem him stricken, smitten of God, and afflicted. But he was wounded for our transgressions, he was bruised for our iniquities: the chastisement of our peace was upon him; and 

with his 

stripes 

we are healed.

Isaiah 53:4-5 (KJV)
Who his own self-bare our sins in his own body on the tree, that we, being dead to sins, should live unto righteousness: by whose stripes ye were healed. 1 Peter 2:24 (KJV)
Acts 10:38 (KJV) How God anointed Jesus of Nazareth with the Holy Ghost and with power: who went about doing good, and healing all that were oppressed of the devil; for God was with him.
And Jesus returned in the power of the Spirit into Galilee: and there went out a fame of him through all the region round about. And he taught in their synagogues, being glorified of all. And he came to Nazareth, where he had been brought up: and, as his custom was, he went into the synagogue on the sabbath day, and stood up for to read. And there was delivered unto him the book of the prophet Esaias. And when he had opened the book, he found the place where it was written, The Spirit of the Lord is upon me, because he hath anointed me to preach the gospel to the poor; he hath sent me to heal the brokenhearted, to preach deliverance to the captives, and recovering of sight to the blind, to set at liberty them that are bruised, To preach the acceptable year of the Lord.
Luke 4:14-19 (KJV)
---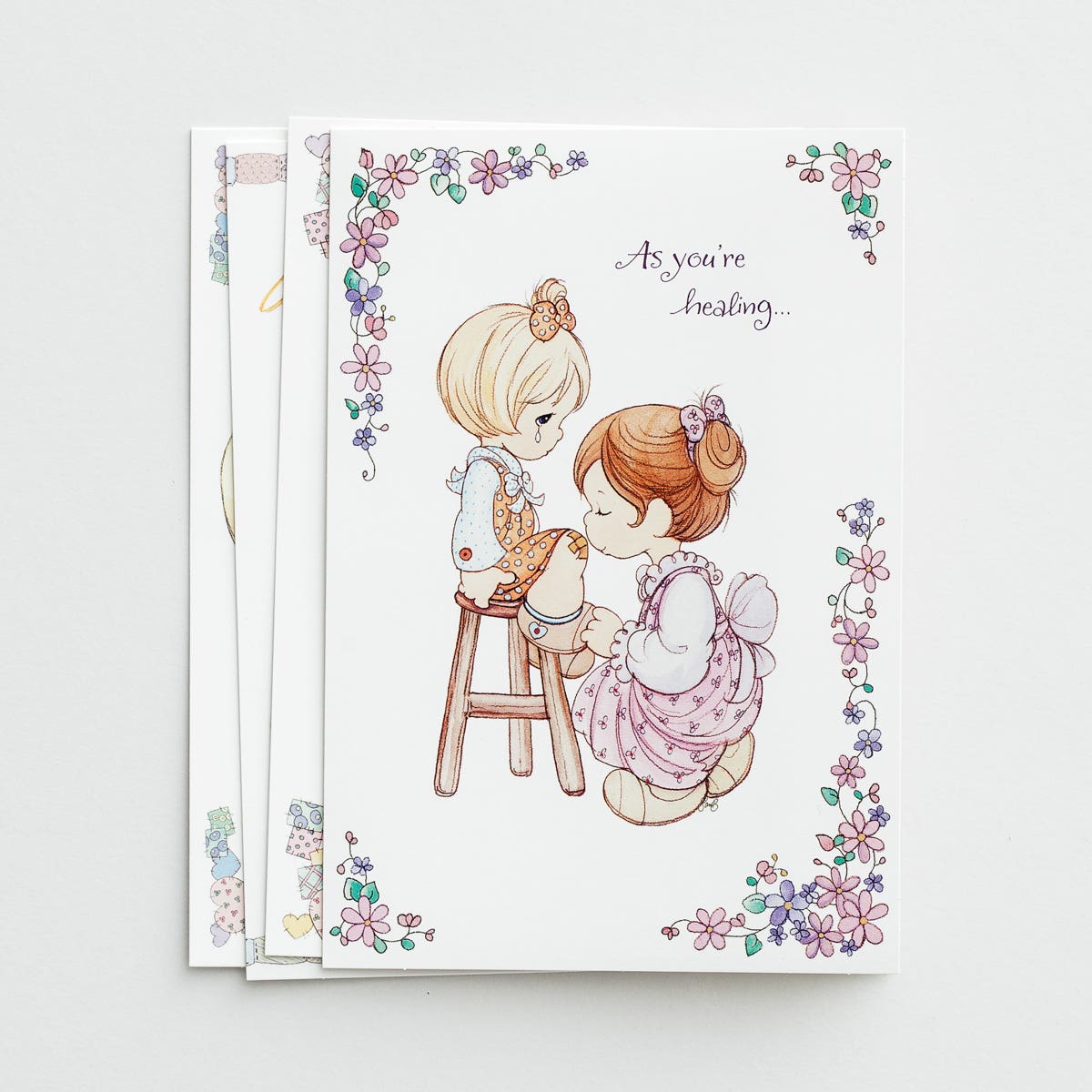 Precious Moments – Get Well – As You're Healing – 12 Boxed Cards
from: DaySpring Cards Inc
---
These healing bible verses tell us that Jesus healed everyone that came to him
And Jesus went about all Galilee, teaching in their synagogues, and preaching the gospel of the kingdom, and healing all manner of sickness and all manner of disease among the people.And his fame went throughout all Syria: and they brought unto him all sick people that were taken with divers diseases and torments, and those which were possessed with devils, and those which were lunatic, and those that had the palsy; and he healed them. Matthew 4:23-24 (KJV)
And had suffered many things of many physicians, and had spent all that she had, and was nothing bettered, but rather grew worse, When she had heard of Jesus, came in the press behind, and touched his garment. For she said, If I may touch but his clothes, I shall be whole. And straightway the fountain of her blood was dried up; and she felt in

her

body that she was healed of that plague.

And Jesus, immediately knowing in himself that virtue had gone out of him, turned him about in the press, and said, Who touched my clothes? And his disciples said unto him, Thou seest the multitude thronging thee, and sayest thou, Who touched me? And he looked round about to see her that had done this thing. But the woman fearing and trembling, knowing what was done in her, came and fell down before him, and told him all the truth. And he said unto her, Daughter, thy faith hath made thee whole; go in peace, and be whole of thy plague. Mark 5:26-34 (KJV)
And when the men of that place had knowledge of him, they sent out into all that country round about, and brought unto him all that were diseased; And besought him that they might only touch the hem of his garment: and as many as touched were made perfectly whole. Matthew 14:35-36 (KJV)



Read More about healing here: